RMG International
Faculty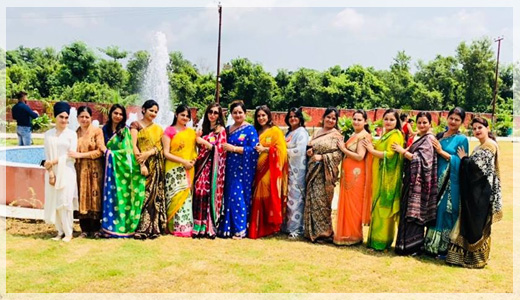 Teacher Qualification
At RMG International School, we ensure that not only our teachers are qualified, but are also passionate and driven, to do whatever it takes so ensure that our children learn well.
Continuous Professional Development
An effective teacher is the developing teacher. Reflecting upon what we are doing and how we are doing is an essential part of development process. Keeping this as our perspective, workshops for teachers are organized and feedback is reviewed. This actually helps teachers meet the challenges of their work and achieve their goals.

The teachers at RMG are lifelong learners. The continuous professional development team of the school offers time bound learning activities for teachers to help them upgrade their skills and enhance their respective subjects. Circle times are an occasion for sharing the stories of difficulty and success in their attempts at innovative practices in classroom.
Name

Designation
Qualification
Graduation/Post Graduation
Subject
Class Taught
Subject Taught
DOJ
Indu Kapoor
Vice - Principal
B.Com, B.Ed
Maths & S.St
VIII
Math & Science
01-04-2019
Anuradha Sharma
TGT
M.Tech, B.Ed
English & Science
VII & VIII
English
01-04-2019
Arti Nagpal
TGT
B.Com, M.Ed
English & Maths
VII
Math
01-04-2019
Meenal Rathore
TGT
B.A, B.Ed
English& Maths
VI
English
01-04-2017
Alka Jauhar
PRT
B.A, B.Ed
Hindi & S.St
III
Hindi
05-04-2017
Mamta Gupta
PRT
M.A, B.Ed
English & Science
II
EVS
01-04-2017
Sarita Sharma
PRT
M.Ed
Hindi & S.St
II
Math
12-07-2017
Romila Bhagat
PRT
B.Sc, B.Ed
English & Science
V
English
06-08-2018
Manpreet Kour
PRT
M.A, B.Ed
Hindi & S.St
II
Hindi
01-04-2017
Palak Mohan
PRT
B.A, B.Ed
English & S.St
I
E.V.S
01-04-2017
Suman Rahi
PRT
M.A, B.Ed
English & Hindi
V
Hindi
01-04-2019
Neeru Devi
PRT
B.A, B.Ed
Hindi & S.St
I
Hindi
01-04-2019
Anita Devi
PRT
M.Sc,B.Ed
Maths & Science
III
Math
17-04-2019
Sapna Sharma
PRT
B.A, B.Ed
Maths & S.St
I
Math
01-04-2017
Poonam Sharma
PRT
M.A, B.Ed
Sociology, Pol.Science
II
English
17-09-2018
Sukhvinder Kaur
PRT
M.A, B.Ed, M.Ed
English & Maths
I
Hindi
07-04-2018
Madhu Satotra
PRT
MCA
Computer
All
Computer & Maths
02-04-2018
Shilpa Sharma
PRT
M.Sc,B.Ed
Human Development
IV
Math, G.K & S.St
07-05-2018
Anuradha Manhas
PRT
B.Com, M.A, B.Ed
English & Maths
IV
English
01-04-2020
Preeti Chopra
PRT
B.Sc, B.Ed, M.Ed
English & Science
VIII
Science
01-04-2020
Sachin Kumar
PRT
B.A, B.Ed
Hindi & S.St
VII & VIII
Hindi
01-04-2020
Ravi Kumar
PTI
B.A, B.Ped.
-
All
Sports
01-04-2020
Poonam Sharma
Librarian
B.Sc, M.Lib
M.Lib Subjects
All
-
01-04-2017
Sakshi Mishra
Nurse
B.Sc, Pharmacist, ECG Certificate
-
-
-
01-04-2017
Rajni Devi
Wellness Teacher
M.A, B.Ed
-
All
-
15-07-2019
Sangeeta
Special Educator
M.A, B.Ed
-
All
-
01-12-2020